Vaccination
Primary prevention of HPV-related diseases is possible by the use of prophylactic vaccination. Currently three prophylactic vaccines have been licensed for the European market by the EMA.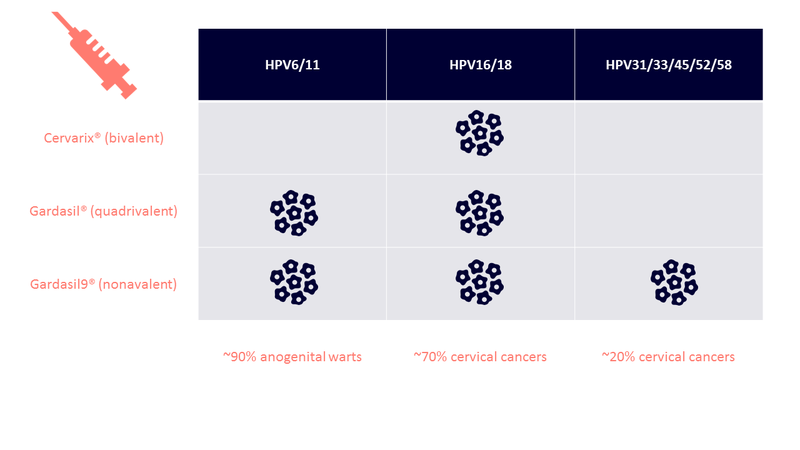 When given to HPV uninfected young women, all vaccines are close to 100% effective against persistent infection with vaccine types. Originally these vaccines were licensed for the prevention of cervical cancer / anogenital warts. Since the original licensure, registration has been extended to men as well as precursors of other cancers.
Since licensure of the vaccines, several observational studies have indicated effectiveness of the vaccines against anogenital warts, HPV (persistent) infections, precursor lesions and recently also cervical cancer.
Initially, HPV vaccination was only licensed when administered as a three doses series. In 2014, evidence emerged that a 2-dose regimen in adolescents up to 14 years of age provides similar immune responses as a 3-dose regimen. Consequently, the WHO and several national programs changed their recommendation from 3-dose to 2-dose vaccination for girls age < 15 years.
Since 2008, 31 European countries have introduced HPV vaccination in routine immunization programs.
Over 10 European countries have included men in their immunization program, which will have a direct beneficial effect on HPV-related disease in men, as well as an indirect effect on cervical cancer by reducing the HPV prevalence in the general population.
---
×